its been 22years since the day i was born. celebration was done with all the beautiful people in my life. blessed, of course i am. despite the "other" celebration yg sedang hangat berjalan, me n azam just redah all the roads n we just couldnt care less. its good to see families having kfc as their lunch. people queue-ing hard to get transformers' movie tickets n all i see is happy people with smiles on their faces. alhamdulillah, ramai juga yg masih reti bersyukur. *aikk lain mcm je statement*
anyway, meh sini i nk cite sambutan tahun ni. as expected, azam are so darn bad in making surprises. name je birthday aku, tapi sume bende kite buat bersama. fine, xyah nk perasan princess but at least once a year.. niat azam baik nk ajak i tgk transformers versi gold class.. tp die tersalah budget. mungkin die ingat org xbrape layan transformers agaknye smpai gold class pun org xheran. padahal, meroyan2 kut org nk tgk cite tu. pedulik la gold class ke, yellow class ke, brown class ke.
so the tickets were all sold out. yupp, even the gold class'. i masih ok sbb dh bole agak mmg xdpt tgk pun. so we walk. azam mmg dh ckp die nk bli kn i bag. i dont mind but.. i smpai nangis2 mase azam nk beli bag tu. seriously.. kalo ade org nmpk pompuan nangis dpn charles n keith n chanel, aku la tu.. hahaha.. dh balik baru nk malu.
ok2.. long story short, i know azam is buying me bag but die suruh i pilih. there are bag n shoes yg i suke n its c&k. i dh budget utk hantaran nnt i nk bli kan saje utk diri i bag n kasut c&k so i xmo la pakai buat basahan pun c&k. so thats y i meleleh marah kan azam sbb xpilih kan i bag lain. ade ke die kate hantaran nnt beli bag lain. wuuu.. emosi2.. last2 aku malas nk gado sbb hakikat nye i pun mmg xbole pilih bag lain so mendapat la i bag n kasut c&k. fyi, ini brand c&k pertama i.. mule2 budget bag saje. tp kasut nye murah sgt la plak. 50% ok!!!
ok, gambo blurr. tp lantak laa. yg penting kasut aku murah je. suke2.. *kalo mahal, sure aku kate kasut tu xcantik langsung* nmpk je tinggi tp kalo baling kt anjing pun xmati.
mlm plak i dgn azam gi dinner dgn FSIL kt chilis empire. yummeh!! huhuhu... thanks mucho kak lang.. blk rumah, mak abah pulak sambut nyanyi lagu happy birthday. huhuhu... super happy ok!!! weee...
tp, i ade satu masalah la plak.. buat mase ni i tgh angau dgn satu bag baru.. isk.. harga nk ribu but my i just coulnt get my eyes over it. kat OU suke, kt empire suke.. isk.. masalah!!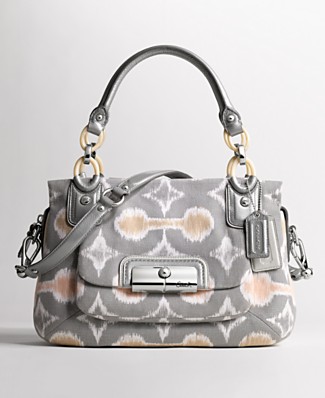 meet my new crush, coach kristin op ikat print satchel.
huhuhu.. xpnah2 i minat coach tp sbb ikat print ni hati ku terpaut BIG TIME!!! haih.. dapat xagaknye aku nk merase bag ni eh? kwang kwang kwang..