chewah.. mcm terer je nk DIY kasut.. ingat jimmy choo ke nak buat kasut sendiri. hehehe.. lepas raya i nk order kasut or start carik kasut secara serious aci x?
well, seketika dulu i pnah raised this issue of pengantin jatuh tergolek2. well, that bride will be me kalo i menggatal nk pakai kasut bertumit tinggi yg kurus mulus tu. sumpah xreti.. semua koleksi kasut adalah wedges2 belaka. mmg xde langsung kasut tumit2 ni. T_T
ramai yg berkata, pakai heels la sexy, tinggi.. nak2 plak yg berplatform tu.. phewww.. yg xgorgeous pun for sure akan nmpk gorgeous la. bak kate quote ni :
"A woman with good shoes is never ugly. They are the last touch of elegance"
- Coco Chanel
of all types of shoes, i paling suke peep toe. i rase mcm cute + sexy kut kalo pakai pep toe.. kalau muncung tajam panjang ke, tutup semua ke, tali2 ke sume i xminat. xkire, xkire, nk peep toe jgak!!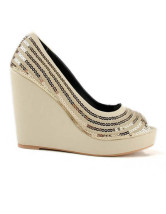 stakat nk tampal batu2 kcik2 tu agak2 bole ke xeh? dh mule dh la ni nk merepek mengaruk. ari tu kate nk buat kasut ala2 kate middleton je. haih.. bunga hantaran pun xsiap lagi.. dh mengada nk buat bnde lain.. tamak2.. one of the 6 deadly sins tu.. yikes!!