i xtau if i should call this a good news or a bad news. but nway, it has got nothing to do with me. i dh pun grab this promotion. skrg mungkin its ur turn plak. fyi,
[Ren-da Belleza]
extend kan 2011 promotion diorg smpai tgh bulan april ni! well, tu pun i dpt tau dr wall diorg on FB.
katenye sbb 'org kuat' mereka yg xberapa nk sihat so diorg xbole nk reply email. yela, xfair la kan. org yg inquire tu mungkin email before 30th March tp sbb diorg sendiri yg xsihat n xbole nk bukak or reply emails xpasal2 org yg nk sgt promo tu xdpt.
to me promo die sgt reasonable. sesuai la kalo uols on budget n nk buat concept yg lebih smaller scale n comel2. on my side, kitorg amik diorg ni utk decorate mase time nikah. sib baik the owner sgt negotiable so i bole discuss further dgn die on ape yg i nk n ape yg i xnk.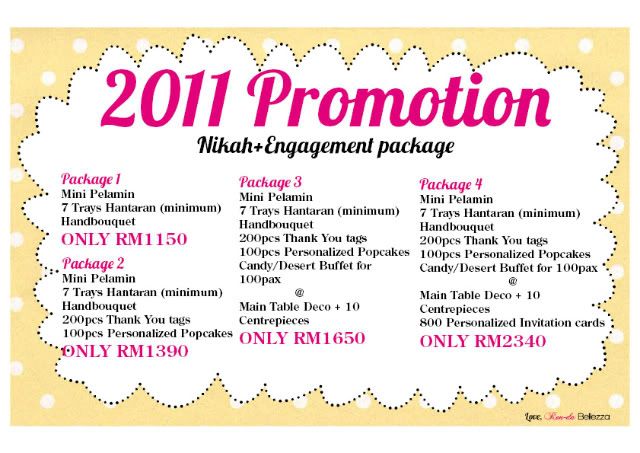 so to b2b out there yg nk hire diorg, still sempat. be patient as ur emails may be replied slightly later than ur expectation cz diorg xsihat. mase i discussed dgn the owner ade gak die kate ade org yg pakai promo ni even utk majlis 2012. but early 2012 of cz. well, cube la carik decorator lain yg bole bg harga mcm ni. selagi ade mase ni, xrugi kalo di-consider-kan kan? lg pun bkn selame2 nye harge ni. kalo ikutkan by 30th march ni dh abis. but ni la hikmah nye diorg sakit. so u may have more time to consider. =P
so, tunggu ape lagi? kalo nk bertunang ke, bernikah ke, berkahwin ke n suke dgn ke-kreatifan Ren-da Belleza, grab it fast while its still on promo! but kalo duit tu dh bertabur2, xpayah la nk grab sgt. BILE2 N berape2 pun bole bayar kan.. huhu..
btw, iklan ni saje2 je sbb last time mase cross kan decorator for my checklist kan i xletak pape caption menarik utk diorg. well, mase tu mood xbrape nk best. in fact, i ni senanye mmg syg vendor2 i. hehehe.. xde maksud pun nk bodek eh.. but obviously diorg2 ni xpayah caption byk2 pun org dh sedia maklum yg hasil diorg cantik2 belaka. bak kata pepatah, see it to believe it.
eh, terselit pics lampustudio plak. hehehe.. geram la! cantik sgt!