*xpasti samada mak buyong berangan utk anak atau untuk dirinya sendiri*
its since this week yg i start haru google sana sini online shops yg jual playpen esprit. so its since this week jgak i tgk itu ini tentang furniture keperluan baby. we've (i je actually) specified a space in our room utk letak semua brg baby. his playpen, his little white cupboard, the sofa for me to breastfeed him (cececey) n many more.
fine, u know what i want for the playpen. but the cupboard? xde idea lagi. anything yg tinggi n kurus i rase. space kami xbyk. but preferably, white.. even drawers pun will be good enough for me..
asked for hubby's permission to paint some part of the room but azam kate xpayah. just decor gune wall sticker je. i was like.. ehhh??? mcm xcantik je. but we'll see.
apart from those baby stuff, hehehe... ini jgak termasuk dlm angan2 i. sila layan gambar dibawah..
for the baby..
the dream playpen
+
matching cupboard
+
ikea's wall lamp
+
matching rug
+
for the rest of our room
matching n calm color curtain
+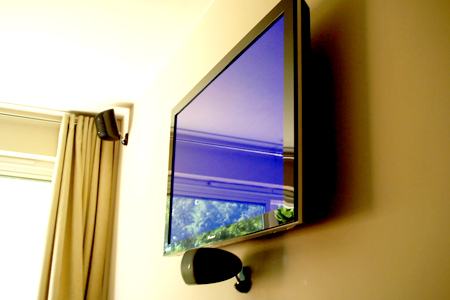 new LED tv on the wall. =P
+
mini bar supaya senang mak die ni nk letak susu
berangan mmg gampang. kalo ade semua atas, our room will be complete. its our home sweet home. mcm ni la kalo org xde rumah tp nk berangan. nasib baik xbole letak dapur, meja mkn sume. but insyallah, we'll work hard for all these.
anyway, i ingat nk buat projek tilam kekabu. nampak sgt empuk dan selesa. tp tatau la mampu or terdaya ke xuntuk i buat. was inspired by those at
little diva boutique
. nak beli xmampu. =P
owh.. alangkah indah nye rase kalo baby nyenyak tidur di hasil tgn mak nye sendiri. lagi2 bile ia dihias cantik didalam playpen. *berangan*
ok, thats all for today. btw, smlm i dh "nampak" movement baby. i duduk bersandar dikatil sambil berwhatsapp bersama teman2. lepas tu i letak phone atas perut n guess what, phone bergerak mengikut rentak heart beat baby. seriously it wasnt me n its not my pulse or whatever. but correct me if im wrong sbb i rase mane ade nadi kt perut? perut i masih naik turun mengikut pernafasan seperti biase. hubby saw it too n he started to put his ear on my belly. hahaha.. so sweettt.. cant wait for his first kick.
to visit the gynae tomorrow to check on this little kid. hopefully he's doing ok. mak n abah cant wait to see u hunn..
ps. insyallah will start my weekend tomorrow. i'll be on leave just for the check up n friday, kerja mcm xkerja n then, whooooosh... we're off to penang!!! *can already smell the summer breaze! yeah oh yeah!*